Its our 10 year anniversary!  I can't even believe it. So many things have happened these past ten years.  I've gone from a single woman to a wife and mommy of three boys.  I've moved from California to Montana then back to California and now to Dallas Texas!  My husband and I have taken what was once just a dream and turned it into a business with a niche I could only dream of as a little girl.  
I always thought when young that there was no way I could be a photographer when I "Grew up" because I wanted to be a mom and heaven knew that there was no way I could travel the world working for National Geographic and have babies and a husband back home.  Back then the only type of photographers I really knew of were those that worked for National Geographic.  I never dreamed that I could be in the wedding industry (as my mohter and grandmother were) and even better with a fashion and editorial/conceptual niche!  It has truly become a highlight in my life working with such incredible people and finding talents inside I never knew I had.  
I'm grateful I had the courage to wait till I was older to find the right man for me versus having married any other boyfriend I had prior to my husband.  Had I not of married Aaron I am certain that I would never had this opportunity to live out this dream of mine.  Here is a photo of my husband and children...I shot this on a timer..so i ran to my spot accross the dock!  For that reason my children are looking less than adorable due to my moving them for me to fit:)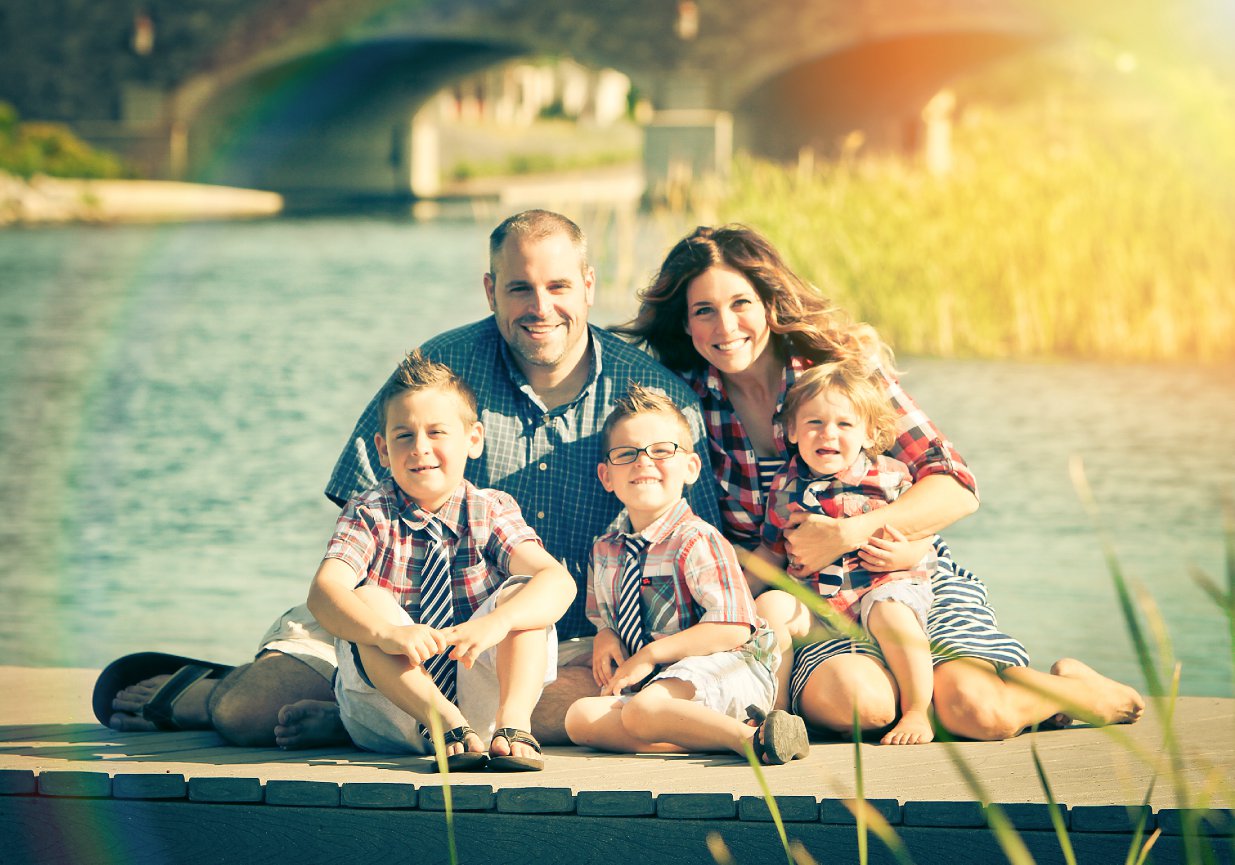 Besides my husband and children. Art is my passion.  I could kick myself for not being an Art major as my father advised me to be. (He himself was an incredible professor of Art.)  I also share the love of fashion and modeling from my mother and grandmother.  I cannot say that I was a model as my grandmother was however I do aspire that all woman can feel like models no matter how they look on the outside, simply because society has made that look so luxurious.  That is how Ari Photography found its niche in fashion.
I enjoy the not so normal, more artistic and the show stoppers.  For this purpose I have steared my business toward the editorial/conceptual fashion niche.  I could shoot haute couture conceptual shoots all day long.  Those spreads you see coming out of Vogue,Vanity fair, Modern Luxury Dallas/New York/Los Angeles and other Luxurious Fashion magazines are the nutella to my bread.
Since I was a teen I have LOVED weddings. In fact it was a tradition growing up to go reception hopping.  With so many friends getting married there was always a reception to go to and it was there I would stake out their theme, their cake, the dress, and how they put it all together.  It drove me crazy when on such an important day people would skimp on important details while at the same time thrilled me when they took it to that higher level.  A level I call luxury. Weddings fascinated me and continued to do so.  of course it helped that my mother was a wedding planner herself. For all these reasons Ari photography shoots a of weddings. But not too many that I skimp myself on the details of their wedding photography.  This is what has turned Ari Photography from a regular photography company to a Boutique company.
A father who was a world renowned Artist as well as photography teacher. My Mother, a wedding planner/designer as well as a makeup artist.  A grandmother who was a model, a supportive husband and there you find the birth of our company.  
In 10 years I hope my company is decribed as being...Couture Wedding and conceptual as well as editorial fashion photography for the avante garde, a truly boutique affair.
What was intended as being a quick post about our anniversary ended up being quite a history lesson!  Thank you for taking the time to visit my blog today and even more so for being a loyal Ari Photography fan.  As a thank you and in honor of the anniversary, Please enjoy 10% off any booking so long as we get that shoot in the books January of February 2015.
To the next 10 years!

Your friend, Ari
www.ariphotography.com
www.facebook.com/makemehaute
Ari@ariphotography.com