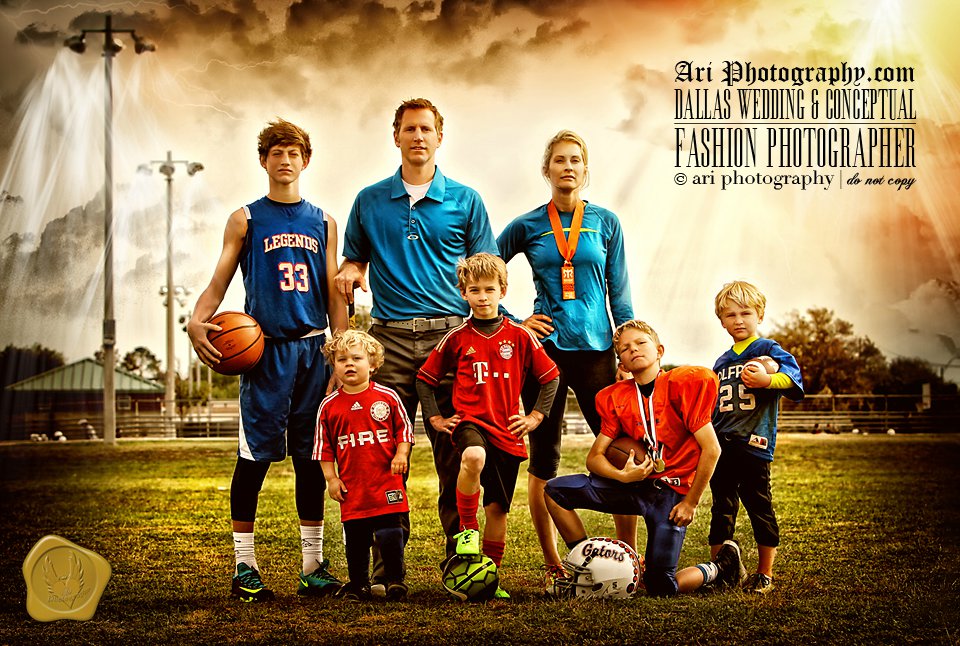 Yesterday I had my first shoot out here in Dallas Texas.  It was wonderful and I'm so happy with the way the main family photo turned out!  I didnt even have to switch any heads!!  
Presenting the Lohner Family!  Perhaps you have heard of the Lohners?  Matts brother Mike Lohner works closely with the head of Stella and Dot!  I have several friends who sell this jewelry:)  
I was so impressed with this family and how great they were a midst the very cold breezes.  Initially I planned on a sunny day.  But to my excitement the day ended up being over cast so I was able to grab some clouds and add some in photoshop wise as well:)
How did we come up with the concept?  Well this was quite simple actually.  We worked with several concepts but Liz said really their family is all about sports and they each excel at different sports (besides the youngest Calvin..oh my gosh this little dude was adorable!)  And I couldnt get enough of Brooks the second to youngest! So we went with each persons favorite sport.  Liz is a runner so we featured her as a ragnar runner:)  
Loved this shoot..as you can see minimal props and it didnt take too long wither which is unheard of with large families!  I just posted the before and after shots on my facebook wall..be sure to check them out!!!
https://www.facebook.com/MakeMeHaute/photos/a.212458675449470.64256.116696338359038/953560834672580/?type=1&theater
Thank you Liz and Matt Lohner!  What a truly All Star Family you have!
Ari